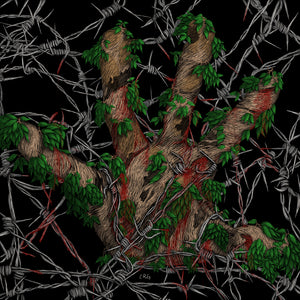 crgamache
The Price of Greed is Everything
Regular price
$1,700.00
$0.00
A wooden tree hand is reaching out to us for help as barbed wire slices, cuts, and pierces the wooden flesh. Humans try to control nature, and force it to do our bidding, all the while we hurt and maim without caring for the harm we've done. We're the only ones who can stop ourselves from continuing the devastation--will we extend our hand to help, or will we let the barbed wire ripe it to shreds?
This is the original work of art, and is set up to be printed on a 16x16 canvas.  As a digital artist working in a digital medium, sizes can be fluid until it is printed.
Smaller sizes are available as art prints at a discounted rate.
---
More from this collection