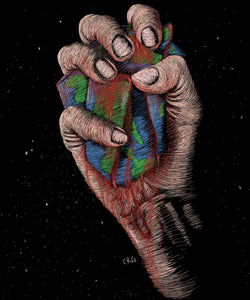 crgamache
What We Do
Regular price
$1,650.00
$0.00
The hand crumples Earth, as blood seeps out. It's not just the planet we destroy, but ourselves as well. War, violence, and greed bleed the planet dry, as we squeeze it for every drop it has left.
This is the original work of art, and is set up to be printed on a 20x16 canvas.  As a digital artist working in a digital medium, the size can be fluid until it is printed.
Smaller sizes are available as art prints for a discounted rate.
---
More from this collection