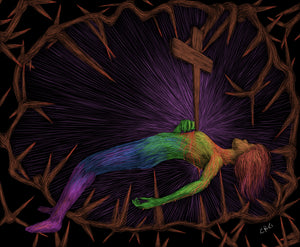 crgamache
Our Agenda is Equality
Regular price
$1,700.00
$0.00
The worst bullying I've experienced as a member of the LGBTQIA+ community has been from people who are Christian.  I've seen and experienced bullying, belittling, threatening, and attacking members of the LGBTQIA+ community. They claim our agenda is to hurt them, but our only agenda is equality. We fight for the right to exist, while they fight for the right to exterminate us.  I hope one day we will learn to reach for love instead of hate.
This is the original work of art, and is set up to be printed only once on a 16x20 canvas.  As a digital artist working in a digital medium, the size of the work can be fluid until it is printed.
Smaller sizes are available as art prints at a discounted rate.
---
More from this collection